This year we are presenting a line-up of seven new, unpublished plays. We have been including unpublished work in the mix for several years now, and we're thrilled to be able to showcase fresh playwriting talent in this way. We chose these seven plays from a field of 250 submissions, reviewed by a group of dedicated volunteers. We take the top twenty or so plays from that process and do a day-long, live table reading to get a better feel for what they are like when performed, and make our final choices from that set. We're really excited about this year's selections!
September 16 and 17 at 7:30 pm
September 18 at 2:00 pm
September 22 to 24 at 7:30 pm
September 25 at 2:00 pm 
Tickets for evening performances are $15 for general seating, $20 for premium seats.
Tickets for matinee performances are $10 for general seating, $15 for premium seats.
Tickets can be purchased at the door (cash and check only) or online for a small additional fee. 
The Thursday, September 22 performance is pay-what-you-can if you purchase at the door.
Tickets are now available for sale at: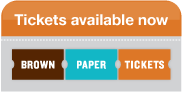 Our selections for 2016: 
The Prodigal Cow
by Mark Harvey Levine
Directed by Megan Klett 
A familiar story, told from a slightly more bovine point of view.
Megan Rowe as Cow
Mehek Jahan as Goat
Fishbowl
by Erik Meixelsperger
Directed by Reed Schulke 
A couple mourns the death of their son under unimaginable circumstances that have become all too common.
Lori Alsdurf as Anne
Timmy Rawerts as Mark
Monkey Play
by Rand Higbee 
Directed by Gina Light and Matthew Kraft 
The result of a years-long experiment, Homer is talking chimpanzee. But...does he really talk, or are his utterances nothing more than how a dog barks or a cat mews in order to get attention? Homer must convince his "mother" Stephanie that he is a talking, feeling being, or it's back to the zoo for him. 
Linda Hayen as Stephanie
Steve Ramirez as Homer
Tabitha Kerr as Sally
Peck
by Frank Tangredi 
Directed by Stephen Houtz 
Mike McKisco, marketing executive, has come to meet Dale White, brought in from outside to take over Mike's department. Outwardly cordial, Dale makes a series of sly digs that keep Mike off balance and slowly eat away at Mike's confidence. Dale eventually reveals a past connection between the two. 
Chad Giefer as Dale White
James Wilsford as Mike McKisco
Bob & Jane One
by Walt Vail 
Directed by Rhianna Picht 
3m, 2f
BOB & JANE live in one universe, and BOB2, JANE2, and BOB3 another, as ghosts. BOB & JANE ONE are alive and completely unaware of the presence of the ghosts, but sometimes feel a chill of cold air—and look puzzled a moment—. 
Chris Maresca as Bob 1
David Durkee as Bob 2
Steve Ramirez as Bob 3
Shelly Anderl as Jane 1 
Wendy Hathaway as Jane 2
How I Knew Her
by Allie Costa
Directed by Liz Michaelson 
Two strangers grieving the same person cross paths in a graveyard.
Chad Giefer as Cole
Lauren Schulke as Kylie
Gram Scams
by Cary Pepper
Directed by Jen Cordes 
Grandma is at home when the phone rings. It's her grandson Michael (20's). "I'm in Canada. I was in an accident. My jaw is wired and I can barely talk. I need $15,000 to pay hospital bills and get my car fixed." What loving grandma could resist helping out her desperate grandson? Perhaps one who's a little more savvy and up-to-date than most people would think.
Marcia Graybow as Grandma
Chris Maresca as "Michael"
Dan Shaughnessy as Michael